Familiar looking pirates …
"Curse of Rabenstein" is out! I just got my copy:

Wow, they even have an Amiga version! Not quite sure which of the screenshots represents that one, but the pixel art on either of those is quite nice. I'm tempted …
Edit: Must be that one (the mouse cursor gave it away):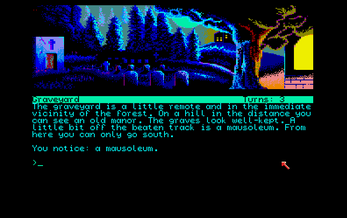 Cutish was released "just now" (just this year) on itch.io and Steam.
I have only heard from it now after seeing a review on AdventureGamers.
According to them it's a nice Myst-like game, thin story but great atmosphere, many puzzles but cumbersome interface (non-customisable key bindings using QDZS instead of WASD
; no hotspot indication
).
That's WASD on AZERTY. With a review like that, one might imagine the problem will be fixed within days if not hours.
At first glance I thought the reviewer might've overlooked something, but not all keys can be customized. The config window can't be resized btw. (This is the demo.)
Something very weird, maybe a Wine thing but I don't think I've seen it before, is that even after setting 2180p it still starts in 1080p… in the top-left corner. Something also seems to be broken with gamepad controls, but again chances are it's a Wine thing.
Maybe I'll try it in Windows later, combined with setting the keyboard layout to AZERTY. Because those default walking keys are awful on QWERTY, lol. Or just with the gamepad; it's not like this is a shooter. (At least I assume Fire1/2/3 just means something like "Pick up" and "Look at.")
This explains it. The developer speaks French. So we just need to change the keyboard layout for this game to have WASD.
This would be an alternative. But playing Myst-like games with controller… it feels off

But on the other hand I did play large parts of TWP with controller.
Hei, this is a monkey island 3 clone and it looks very polished…
Also with a demo on Itch:
I would buy it instantly if they would have a DRM free version…
That's the question. Has somebody bought it on Itch and can confirm that it is DRM free?
Reply here
Our itch release is DRM free. Here (unlike our Steam release), you can enjoy the feel of total ownership of your copy of the game.
Well, now it IS just released
Ah, by the way. Happy Thimbleversary everyone
Congrats for the release!
An audiotextadventurething (maybe something for @seguso?)
Er… no.
But "Over the Alps" was released today on steam… it is said to be a masterpiece in storytelling , by the writer of Heaven's Vault, IIRC.