Oh great! Now I have an earworm!

Somewhat related (TWP - Ron Gilbert - …)
The The Cave figurines are on sale ($7 far all 7):

That is amazing! Ooooh I really want it.
I'm so excited that if any other merch for games I like pop up, I might just
It looks really pretty!
The next big thing is the walkthrough on VHS! No, wait for it! Beta Max! That would explain why there are no tapes out there to buy anymore, because they were all used to produce the merch walkthrough.
That's a great idea! Maybe game commentary on VHS…
I was am quite sad that there are no new P'n'C games in the pipeline atm by ex-lucas arts employees.
So I decided to feed my addiction with some new Thimbleweed Merch:
Got myself a T-Shirt, Vinyl and Tape Cassette… now if only I could get my hands on a phone book!
Love the pixelated sticker that came with the T-Shirt too!
I have the T shirt and vinyl, I love them!
I also got the T-Shirt, cards, and mousepad a while back. I love that when I'm at my desk, every time I look down at the mouse I see Ray and Reyes' pixelated faces.

Same. And I get to explain it to my coworkers from time to time
Look behind you, a three-headed monkey!

@Nor_Treblig, not sure if you've seen this already, but I definitely want one!
I have seen this type of plush toy before (maybe while doing image searches; who doesn't search the web for pictures of themselves every two days?).
I like it, I think I'm going to expand my plush collection and buy this one and also the white rabbit too.
I know! I googlurbate every so often myself!
Wait…they had a mousepad?!?
checks Fangamer
…Alas, it is no longer available.
Sorry, I guess they sold out! Mine is from two years ago.
If you really wanted one I suppose you could make your own version online… or just buy Steve Kirk™'s soundtrack on vinyl and use album cover with mouse.
…
Use mouse with vinyl
Look mum, I'm a DJ now! *scratch scratch*. Oh wait, did you say cover?
Nice collection from Lord Destiny: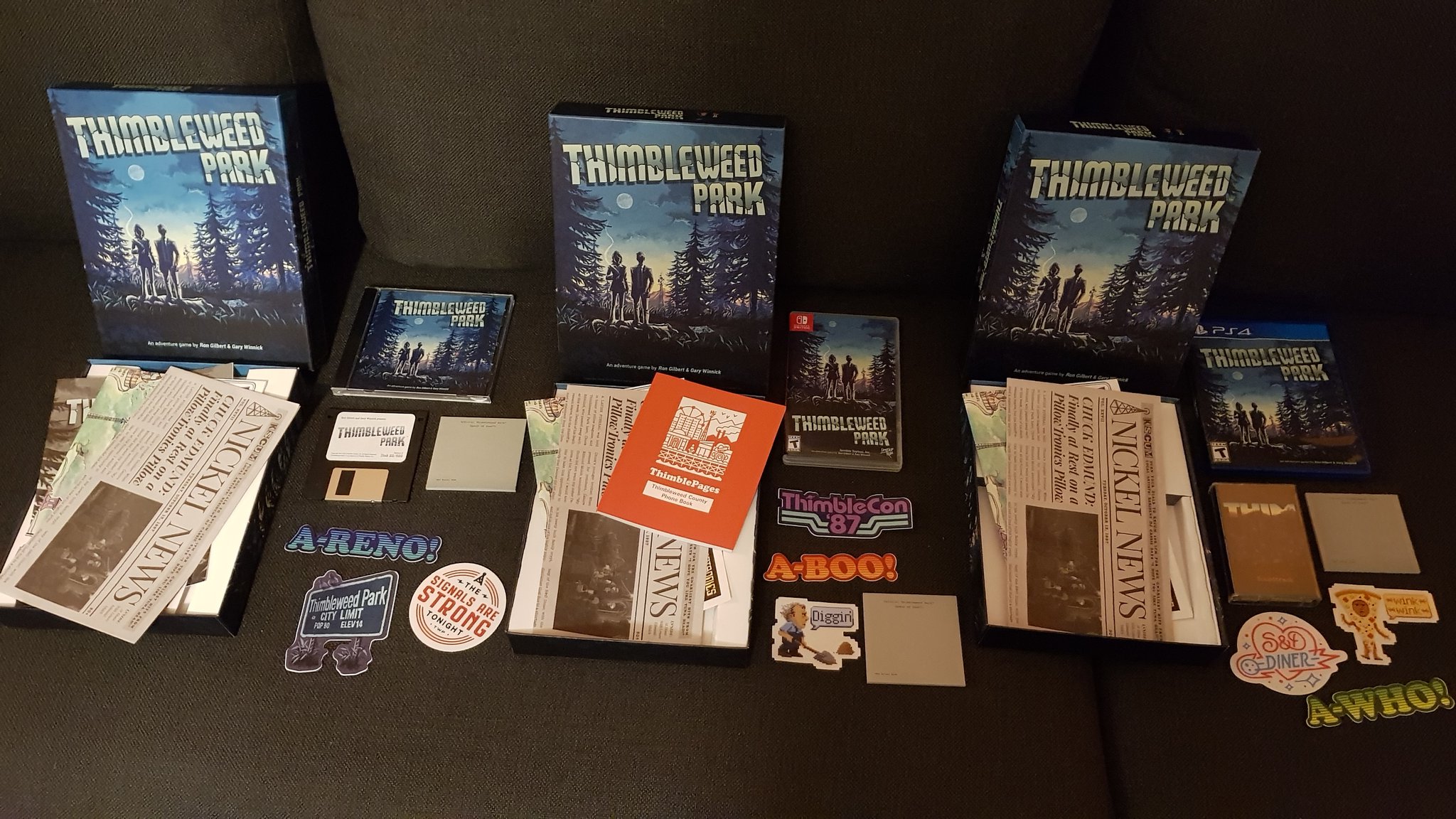 When I saw all this content laid out one question came to my mind:
ADVENTURE GAMERS, WHAT IS YOUR PROFESSION?
A-RENO
A-BOO
A-WHO
A-OO
A-HOO
A-ROO
YA-HOO
Heyyyyyy, my ThimbleCon t-shirt and poster arrived in the mail! It's the yellow t-shirt (I had to go with what's still available.)
I am super happy about the poster, it looks stunning and I like the thicker paper. I'm just stretching it out right now, so in a few days' time it can go up my wall.
I also got a ThimbleCon '87 surprise sticker, and the t-shirt plastic wrapper was sealed with another small ThimbleCon sticker <3
Now I need to think of something thimbly to do on Oct. 16 from 5pm to midnight… any ideas?
Maybe I'll throw myself a con-a-boo. I would love one of those startships-in-a-bottle.
Starship-in-a-bottle would make great merchandise too!
I've found some made of Lego, for a more "pixelated" look:

Sweet! I mean, I do love Lego.
The look of the Lego bottle is a little distracting though.
Either way, it's going to make for a neat pandemic DIY project.
I agree, the second one has a very nice ship but the "glass" is quite distracting.
The first one is a very nice simplistic one though.